News
The Ministry of Education in the country of Malaysia has closed a deal to purchase 250,000 copies of CAPTAIN NOBODY!
Jessie Pitts delivers a soulful "Holding Out for a Hero" (J. Steinman-D.Pitchford) on The Voice Live Playoffs! The Voice 2014 Live Playoffs – Jessie Pitts: "Holding Out for a Hero" – YouTube
NICKEL BAY NICK has been announced as a nominee for the 2014-15 Great Stone Face Book Awards (New Hampshire.)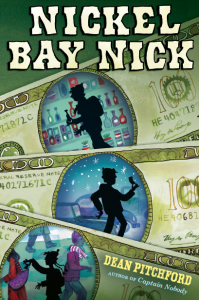 Marvelous Middle Grade Monday apparently really loves NICKEL BAY NICK!
Two teachers in Union Grove, WI, shot a welcome-back-to-school video to "Footloose" that went VIRAL and got them an appearance on The Today Show!
On Thursday, April 24, the 30th Anniversary of "Footloose" was celebrated with a screening at UCSB's Script to Screen program, after which Dean sat for a Q&A with program director Matthew Ryan.
Two of Dean's songs – "Holding Out for a Hero" (J.Steinman) and "Fame" (M. Gore) – were performed by a cappella groups Vocal Rush and Ten during the week of December 16 on NBC's "The Sing Off." Click on their titles to check out these jaw-dropping performances!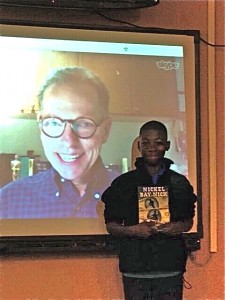 Last year, while on a book tour in North Kansas City, this boy shyly asked if I'd put his name in my next novel. Oct. 29, while I was on a Skype with his class at Northgate Middle School, Veckens Francois was asked to read a passage from NICKEL BAY NICK, and when he read his name (on p. 83), his classmates cheered!
"The Simpsons" 25th season premiere introduced a parody of "Fame" (Gore/Pitchford), sung – with new lyrics – by the inimitable Homer Simpson. Check it out! ▶ Swag from "Homerland" | THE SIMPSONS | ANIMATION on FOX – YouTube
The first review for "Nickel Bay Nick" is in, and it's a doozy! Kirkus Review says, "Nickel Bay Nick" is "…a fast-paced adventure that's filled with (more…)